If you're like me, you might be feeling like fall is flying by. How is it already December?
I realize that many of you finished your VKRP assessments and went directly into your PALS-K assessments, leaving little time to explore your VKRP data. You may have asked yourself, "What does all of this data do for me?" The answer is: A LOT! The data you collected can help you identify where your students need extra support, and the VKRP reports include links to resources that help you provide it!
Here are 3 steps for exploring the data you collected.
#1. Access Your VKRP Reports
You can access your own reports from the VKRP landing page in your PALS account.
On the VKRP landing page, you will find VKRP Reports under the View Results column on the right side of your screen.
The Classroom Overview is the best place to start.   It shows scores for your entire classroom in math, self-regulation, social skills, and literacy. (You can sort any column by clicking on the header.)
You can access other reports from the menu on the left side of the Classroom Overview. To see student level reports, you can click on individual students' names or scores.
For a quick overview of the VKRP reports, visit the VKRP YouTube channel and watch the first section of the VKRP Reports & Resources Overview 2017 video https://youtu.be/nhu_5fwtp6s
#2. Look for Patterns in the Data
Now it's time to think about what you see. On your Classroom Overview Report, you can easily see who is At or Above Benchmark (in green) or Below Benchmark (in red).
Ask yourself…
What's happening in the classroom?
Where are students doing well?
Where do students need support?
Is support needed for the whole classroom in any area?
What about individual students?
Do students below benchmark have anything in common?
Do any stand out as needing more support?
Why might that be?
#3. Access VKRP Resources
After looking at your data, it's time to take action! Based on your data exploration – you are likely asking yourself: What can I do to support my classroom as a whole? What can I do for individual students?
VKRP reports include a Recommended Resources section based on your classroom's scores! You can easily access them by just clicking on the domain/subdomain name in the list.
Recommended resources listed on your Classroom Overview(below left) are based on your entire classroom's scores . You can see recommendations for individual students by clicking on their names to see their Student Overview report (below right).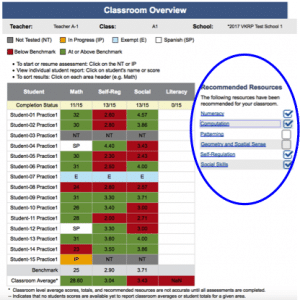 VKRP resources include information on key skills, strategies for supporting those skills, and a great variety of suggested activities! For more information on the VKRP Resources, watch the remainder of the VKRP Reports & Resources Overview 2017 video (https://youtu.be/nhu_5fwtp6s).
Now you know the 3 steps for making the most of your VKRP data!
---
More questions? VKRP provides support via the online chat feature when you are in the system, via email vkrp@virginia.edu, and via toll free 866-301-8278 ext. 1.