Here are 3 steps (and a little bonus) to get you into your VKRP reports and on to using your data.
#1.  Access your VKRP reports
You can access your reports from the VKRP landing page in your PALS account.  You will find VKRP Reports under the View Results column on the right side of your screen (see below #4 – Classroom-Level Reports; #5 – Student-Level Reports).
The Classroom Overview is a great place to start. It shows scores for your entire classroom in math, self-regulation, social skills, and literacy. (You can sort any column by clicking on the header.)
Once in the Reports Dashboard you can access other reports from the menu on the left side of the Classroom Overview screen (see below). To see student level reports, you can click on individual students' names or scores.
For a quick overview of the VKRP reports, visit your VKRP Teacher Manual beginning on page 23 or watch the first section of the VKRP Reports & Resources Overview 2017 video .
#2.  Explore your data — Look for patterns in the data
Now it's time to think about what you see.  On your Classroom Overview Report, you can easily see who is At or Above Benchmark (in green) or Below Benchmark (in red). Your VKRP Teacher Manual includes a section on interpreting your reports beginning on page 29.
Ask yourself…
What's happening in the classroom?
Where are students doing well?
Where do students need support?
Is support needed for the whole classroom in any area?
What about individual students?
Do students below benchmark have anything in common?
Do any stand out as needing more support?
Why might that be?
#3.  Access VKRP Resources from your Reports
Based on your data exploration – you are likely asking yourself: What can I do to support my classroom as a whole?  What can I do for individual students?  VKRP reports include a Recommended Resources section based on your classroom's data!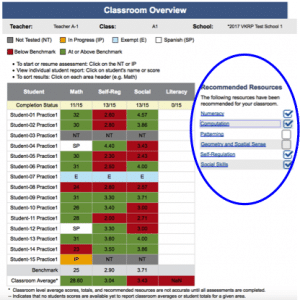 Resources are recommended at two levels:
(1) Classroom-level; for example if 50% of more of your students were below the benchmark in Numeracy, your classroom as a whole would be recommended for Numeracy resources (see example),
(2) Student-level; for example an individual student may be recommended for self-regulation resources based on their data in that area (see example 2 below).
BONUS:  Also available at the student-level are family- friendly reports that help you walk families through how their children performed across readiness domains and what the scores mean. You can also provide them with family resources in the areas of math, self-regulation, and social skills that include fun and easy ways to support their child's development in these domains at home. The family reports and resources are also available in Spanish. Some teachers choose to use these reports as helpful guides during conversations at parent-teacher conferences.
Now you know some steps for making the most of your VKRP data!  More questions? VKRP provides support via the online chat feature when you are in the system, via email vkrp@virginia.edu, and via toll free 866-301-8278 ext. 1.