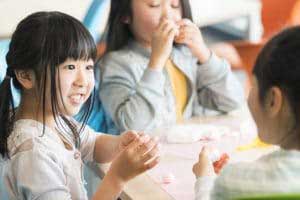 Young children develop social skills and self-regulation at an extremely rapid pace, but one of the biggest boosts to their development comes when they enter kindergarten. Kindergartners – especially ones who are coming into a classroom setting for the first time – rapidly learn how to manage themselves in a new setting, interact with 20+ new friends, and adjust to new adults who are setting the school rules and routines. As their teacher, you observed their social skills and self-regulation last fall, as they were settling into your classroom. You didn't expect to see perfect behavior: most children at that age can only sometimes follow directions, complete tasks independently, or cooperate with peers. But, as you begin observations this spring, what should you expect from them now that they've been with you for several months? Of course, we still don't expect perfection. At the end of kindergarten, we expect that most typically developing children can be a little bit more consistent at a few more of the skills that we assess than they were in the fall. That means a child who could rarely concentrate on tasks in the fall can now do it more frequently; or a child that had some trouble taking turns during games in the fall is now able to do it most of the time. You might find it helpful to review your students' CBRS ratings from the fall and to reflect on individual students in your classroom.
You can find your fall CBRS ratings on My Reporting Dashboard.

Then, toggle to the fall period and select the CBRS Classroom Summary report.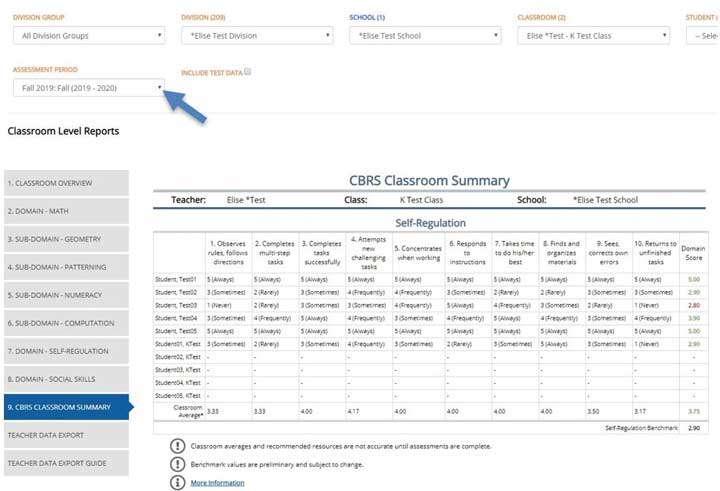 You'll learn the most about how children's self-regulation and social skills have grown from fall to spring if you make careful observations before completing the CBRS rating scale.
As a busy teacher, how can you get the most out of your observations and make them as effective as they can be? First, it is helpful to focus on what children do and say in the classroom to help keep your observations objective. Also, similar to your observations in the fall, it is helpful to observe children over time (morning and afternoon) and in different settings (center time vs a whole group lesson). By this time in the school year, you know your students well, so it might be helpful to intentionally choose a setting or time of day where a student typically does well and another time and setting where a student might struggle a little more. Remember, just like in the fall, if a student is always able to display a specific skill in one setting but is rarely able to in another setting, you want to give them a rating of "sometimes" on the CBRS to most accurately reflect their skills across different environments.
Click here
 for a guide with some tips on completing observations in your classroom.
Also, we have heard from many teachers that using apps on a smartphone or tablet can help make completing observations easier. One app that teachers have found helpful is ClassDojo, 
available for download here
. I
n order to adequately plan for your CBRS observations and completion of the assessments, please check your division's specific VKRP spring assessment dates.
Your school or division level VKRP contact will be in touch about these dates if they haven't already. As always, the team at VKRP thanks you for all that you do to ensure our youngest learners in the Commonwealth have a strong foundation for success in school and in life! We wish you a happy and bright start to the spring!