VKRP Instructional Resources
VKRP has developed a wide range of instructional resources that are available to support early learning skills.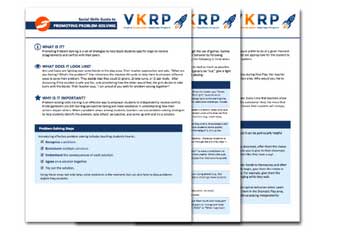 Linking VKRP Reports to Recommended Resources​
In addition to assessments and reports, VKRP has developed a wide range of instructional resources to help teachers and school administrators support early learning skills throughout the year. VKRP instructional resources are available on a teacher's VKRP assessment portal.  The resources are organized in a library by domains and skills across the areas of mathematics, self-regulation, and social skills.
These resources are also linked within the VKRP reports. Recommendations for specific resources will display on student and classroom reports, based on the data collected, to help direct teachers to the most useful resources for their individual students and classroom.
The Value of Instructional Resources
This short video provides an overview of the VKRP instructional resources. Teachers using VKRP share how they have used the instructional resources to supplement and guide teaching and learning in the classroom.
Sample Instructional Resources
Skill and Strategy Guides
VKRP skill and strategy guides provide information on a learning domain, how skills develop within that domain, and how they can be supported throughout the day.
VKRP also includes suggested activities that support early learning skills, and can be used to help students one-on-one, in small groups, or as a whole classroom.